Big companies
As a medium to fairly large company, you've probably got your own marketing teams and a number of agencies that you work with. So where do we fit in?
SMALL THINGS,
BIG RESULTS
Where we come into our own is for specialist jobs like creating an innovative online ad campaign, managing your email marketing, writing compelling copy for a brochure, or designing stand-out illustrations for your site.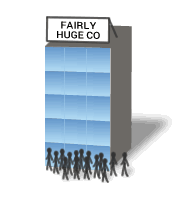 PLAY NICE
We are only too happy to collaborate with your other agencies or your in-house teams – for example, we can design illustrations or imagery for your site and hand them over to your web developers; or create digital ads and work with your media buying agency to execute the campaign.
PUT US TO THE TEST
You're (rightly) fiercely protective of your brand, so it can be difficult to make the jump to using someone new, even for just one aspect of your digital marketing. That's why we're more than happy to offer a trial of our services or compete in a creative test (for example, A/B our copy against your current agency's copy).